What's New?
Micro/sys is a leading manufacturer of single board computers, and embedded computers and controllers. We are continuously integrating the latest hardware and software technology into our products, and are anxious to share with you our latest releases.

Click a link below for more information:


Micro/sys Honred by Vision Systems Design 2016 Innovators Award Program
May 20, 2016
Montrose, California... Micro/sys, a supplier of harsh rugged single board computer solutions, announced today that its Blazing Frames™
SBC4661
Vision Enhanced Computer Board was recognized by the judges of the annual Vision Systems Design Innovators Awards program. Micro/sys was honored with a Bronze-level award.
Micro/sys' Blazing Frames™ SBC4661-BVL is a single board computer with multi-camera interfaces and 12.5 Gb/s through-put, making it ideal for demanding vision applications using
GigE Vision®, USB3 Vision®, CoaXPress or CamerLink® HS
in harsh, rugged environments.
Click
here
for more of this press release.
Micro/sys Partners with FLIR® to Add Infrared Capability to COTS Embedded ARM® Single Board Computers
November 5, 2015
Montrose, California... Micro/sys, leading the way in implementing vision on COTS embedded single board computers, and FLIR, a leading manufacturer of innovative imaging and infrared systems, announced today interoperability of FLIR's Lepton® infrared camera sensor on Micro/sys'
SBC1656
single board computer. The partnership allows embedded users to implement infrared thermal vision on ARM® Linux single board computers and benefit from the COTS advantage so important to OEM security, automation, smart device, gaming, robotics, and unmanned applications.
Click
here
for more of this press release.
New PC/104 ARM®SBC with Dual MIPI® Camera Ports plus FPGA Enables Heavy Video Processing
May 21, 2015
Montrose, California... Micro/sys continues to lead the way in bringing vision to embedded single board computers by offering users a fully integrated camera/video platform on a low-power Freescale i.MX515 board. The
SBC1654
has dual MIPI camera ports (CSI-2) from the ARM Cortex-A8 that are fully integrated into the powerful Linux BSP which includes a popular suite of open source vision development tools. The iMX515's integrated NEON GPU enables the CMOS camera sensors to deliver users with an enhanced multi-media experience. Complex vision applications access the on-board Spartan-6 FPGA to off-load the iMX515 from heavy vision processing and algorithm calculations, leaving the Cortex-A8 free to service typical PC type functions such as user interfaces, communication and networking and application programs. The SBC1654 is ideal for new vision applications or upgrading legacy X86 PC/104 systems needing vision capability.
Click
here
for more of this press release.
Ready-to-Run Vision Package for ARM® Cortex®-A8 Single Board Computer
Includes CSI Camera Sensor in Powerful Linux-Based Camera Software Development Kit

March 12, 2015
Montrose, California... Micro/sys has enhanced its 2.5-inch Pico-ITX™ ARM Cortex-A8 SBC5651 single board computer with powerful vision capability made for industrial applications requiring video cameras. Featuring a new CSI camera port, the SBC5651 interfaces effortlessly to 24-pin off-the-shelf flex cable cameras, making the SBC5651 well suited for small, low-power, portable, or desktop video applications. Featuring a turnkey Linux development station, the
DKV5651
Vision Development Kit includes the SBC5651 single board computer, a 24-pin flex cable camera sensor cube, cables, access to a host of software tools, and validated, ready-to-run example programs. Typical applications for the SBC5651 include medical, gaming, ticketing, transportation, security and data logging.
Click
here
for more of this press release.
Quad-core ARM® Cortex®-A9 with PCIe® hub and FPGA-enabled I/O delivers a Multi-core, Multi-processor, Multi-tasking OEM Embeddable Computer

October 30, 2014
Montrose, CA... With the release of
SBC4661
, Micro/sys, a USA manufacturer of embedded computer boards, adds Freescale's powerful Quad Core i.MX6 ARM Cortex-A9 to its line of rugged Commercial-Off the Shelf (COTS) ARM single board computers (SBC). The low-power, extended temperature
SBC4661
provides 2GB DDR3 soldered on memory to support and augment the onboard Xilinx® Kintex®-7 FPGA. Matched with a rich line-up of onboard I/O, including dual GigE Ethernet and (4) USB 3.0 ports, this SBC is ideal for high-end embedded applications requiring Linux OS, onboard GPU, and a compact EPIC footprint (4.5" x 6.5"). Application areas include high-end security, transportation, military, industrial, communication, vision, and medical systems needing high performance rugged computers for complex systems.
Click
here
for more of this press release.
Micro/sys Announces Powerful Low-Cost Industrial Microcontroller with Web Server, Networking, plus Analog and Digital I/O
May 12, 2014
Montrose, CA… Micro/sys recently released a low power microcontroller board with fully integrated web hosting, networking, and analog I/O on a PC/104 form factor (3.775" x 3.55"). Featuring Microchip's 80MHz PIC32 microcontroller, the
USB3032
is an ideal COTS solution for applications requiring low power and extended temperature operation. PIC32's easy-to-use and solidly supported software tools and stacks combined with Micro/sys' 10-year lifecycle support and OEM pricing allows designers to maximize productivity and shorten time-to-market while keeping overall system development and production costs low.
Click
here
for more of this press release.
True 16-bit PC/104 Analog I/O Module for non-DMA Systems has Filters, IRQs, Digital I/O, Ext Temp, and Autoscan Mode

Montrose, CA...Micro/sys announces the latest addition to our family of popular PC/104 stack-on embedded data acquisition modules offering 32 channels of 16-bit analog-to-digital input and 4 channels of 14-bit digital-to-analog output. Designed to address the decreasing ability of the PC/104 bus to support the growing number of non-DMA processors in the embedded Intel family, the
MPC565
implements First In, First Out (FIFO) registers to organize and pass back-and-forth A/D communication. By utilizing the FIFO registers, users gain the advantage of simultaneous read/write functions at convenient intervals without tying up valuable CPU time. Significant design attention was given to maintaining a low noise analog subsystem that could deliver true 16-bit and 14-bit performance. The rigorous analog input subsystem includes programmable gain amplifiers, programmable low-pass filters, a 16-channel differential input mode (DI), and input overvoltage protection to ±40V, with power on or off. The analog output subsystem includes 1-pole low-pass filters, and output buffers capable of driving cables and other highly capacitive loads. An on-board EEPROM holds calibration data that can be used for installed, end-to-end calibration of input channels.
Click
here
for more of this press release.
Micro/sys Announces Two-in-One Development Platform for the Xilinx Spartan 6 FPGA on a Single Board Computer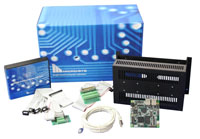 Montrose, California…Micro/sys has released a turn-key single-board-computer development environment for the Xilinx Spartan 6 field programmable gate array (FPGA) aimed at accelerating development of FPGA-based applications for low-power embedded systems. The
DK-FPGA1651
provides designers the option to develop and debug their FPGA firmware for porting to their own user-designed hardware or to keep the firmware on the validated COTS platform for their OEM target application. With all the basic building blocks in one package, designers can work smarter and leverage pre-validated hardware and software including FPGA firmware examples (VHDL and Verilog) to improve productivity, reduce R&D costs, and speed time to market.
Click
here
for more of this press release.
Micro/sys Announces Sub 1 Watt Pico-ITX SBC for Portable and Handheld Embedded Applications

Montrose, California…Micro/sys has released a 2.5-inch Pico-ITX™ ARM single board computer offering power-through-USB and an impressive mix of video, audio, USB, memory, and power features for today's handheld applications. Featuring the cost-efficient, power-conscience Freescale Semiconductor i.MX515 ARM Cortex-A8 processor tailored for multimedia, the
SBC5651
is ideally suited for use in small, low-power handheld and portable devices typical to medical, gaming, ticketing, and test and measurement applications.
Click
here
for more of this press release.
Micro/sys Expands I/O Flexibility on the First ARM Cortex-A8 SBC by Enhancing Access to the User-Configurable On-Board FPGA

Montrose, CA... For maximum off-the-shelf I/O flexibility, Micro/sys provides user access to a Xilinx Spartan 6 Field Programmable Gate Array (FPGA) on a low-power, high-performance Cortex-A8 single board computer (SBC) using Freescale Semiconductor's i.MX515 processor. The Micro/sys
SBC1651
is easily embeddable supporting a 104™ Form Factor and is available in extended temperature. Matching the newest Freescale i.MX processor series with Xilinx's vast library of IP modules for I/O expansion, this powerful SBC provides embedded users with the world's first completely integrated solution on a small, low-power, rugged board. OEMs reap the benefit of this integration realizing reduced development efforts, easily customized I/O, faster time to market, easier production builds, and lower total cost of ownership.
Click
here
for more of this press release.
Micro/sys's High-Performance, Low-Power ARM Computer Board for StackableUSB™ Paves the Entrance for ARMs in the "PC/104" Market

Montrose, CA... Micro/sys continues to lead the way in the embedded single board computer world with the release of the high-performance, low-power
SBC1651
, an ARM Cortex-A8 computer board with StackableUSB™. Having the Freescale Semiconductor i.MX515 CPU at its core, the
SBC1651
consumes minimal power while operating at 800MHz and delivering the performance needed to run multimedia-rich applications in harsh and demanding environments . Its advanced RISC core and tight peripheral integration give the
SBC1651
the competitive edge—making its 800MHz perform like 2GHz all the while satisfying the power efficiency required in battery-operated applications. The on-board StackableUSB I/O expansion with USB, I2C and SPI provides access to a wealth of plug-and-play off-the-shelf I/O boards with A/D, D/A, Zigbee, GPS, mass storage, sensors and other embedded I/O. All this combined with a wide range of software operating systems including WinCE, Linux, VxWorks, and Android, makes the
SBC1651
ideal for new embedded systems designs or upgrading legacy X86 PC/104 systems.
Click
here
for more of this press release.
StackableUSB™ Standards Organization Moves to Incorporate USB 3.0

Montrose, CA... As StackableUSB gains market recognition in the embedded, sensor, military and robotic industries, Chairperson Susan Wooley has announced the organization is moving forward with the approval of a single USB 3.0 channel inside the popular StackableUSB connector. By defining pins which had "quietly" been left undefined, the USB 3.0 channel will enable the StackableUSB connector to deliver actual throughput greater than 5 Gbits/sec which is 10 times the speed of a single Hi-Speed USB channel. With this announcement, StackableUSB gains throughput similar to PCIe Gen 2.0 and Serail ATA (SATA) III without the burden of mixing these very complex and distinctly different protocols inside a single connector.
Click
here
for more of this press release.
New Micro/sys Controller Brings Graphics to StackableUSB™

Montrose, CA... Micro/sys satisfies the demand for graphical user interfaces in low-power, space-constrained embedded applications with the introduction of its new
USB3201
, a graphics controller and a compact 2.8" (320x240 pixel) color LCD, which comes with a highly-modular, easy-to-use software package. Using StackableUSB, the
USB3201
easily mates with small, energy-efficient microcontrollers operating off a 9V battery, as well as X86 and ARM single board computers, to provide OEMs complex 2D and simple 3D graphics within the popular 104™ Form Factor. The
USB3201
exemplifies USB's ability to enable sophisticated, low-power systems across all CPU platforms.
Click
here
for more of this press release.
Micro/sys Releases StackableUSB™ Carrier Boards for Three Form Factors

Montrose, CA... A new suite of StackableUSB carrier boards just released by Micro/sys offers embedded system designers maximum flexibility to implement USB measurement and control systems. The Micro/sys
USB4364
,
USB5364
, and
USB3364
carrier boards respectively support the Nano-ITX, Pico-ITX, and the 104™ Form Factors and provide OEMs direct connection from their processor board's PC-style USB ports to StackableUSB Clients. The carrier board, utilizing the Nano-ITX, Pico-ITX, or the 104™ Form Factor mounting holes, attaches to the single board computer and creates up to four USB bays per carrier board. By simplifying the challenges of mating USB I/O devices to single board computers, Micro/sys' StackableUSB carrier boards afford users a simple solution for garnering more I/O flexibility and capacity on a variety of form factors.
Click
here
for more of this press release.
Micro/sys Releases Environmental Sensor Board for StackableUSB™

Montrose, CA... As embedded systems take a pivotal role in our nation's "green" movement aimed at conserving energy, Micro/sys'
I2C1610
provides system designers a powerful tool in a I2C device which enables an embedded system to monitor four different environmental criteria. Incorporating highly-integrated sensors onto a compact 1.85" x 1.74" form factor, the
I2C1610
is able to measure temperature, light, humidity, and atmospheric pressure, either inside or outside the system enclosure. The Host computer receives the sensor status via the StackableUSB connector, thereby enabling the embedded system to adjust its performance to match environmental needs. OEMs will benefit by using the
I2C1610
board as a simple, low-power, cost-effective solution for making embedded systems environmentally aware and energy efficient.
Click
here
for more of this press release.
Micro/sys Releases Trio of New General-Purpose StackableUSB™ Industrial Client Microcontroller Boards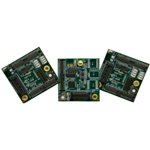 Montrose, CA... Micro/sys continues to expand its selection of StackableUSB boards with the release of three (3) general-purpose industrial Client
microcontroller
boards: the
USB1132
,
USB1124
, and
USB1108
. When combined with off-the-shelf embedded SBCs, these new plug-on I/O boards easily enable the SBCs to perform mid-range control functions. Each plug-and-play microcontroller module covers a range of A/D, digital I/O, RS232, and timer control functions on an extremely small (1.85" x 1.78") footprint, making them affordable and easy to add onto embedded systems.
Click
here
for more of this press release.
Micro/sys Releases First Rugged StackableUSB™ Accelerometer Module with Analog & Digital I/O

Montrose, CA... For the first time, the rugged embedded world can incorporate an accelerometer into an embedded system with USB and still meet the reliability demands of rugged and harsh environments. The Micro/sys RoHS-compliant
USB1600
is a tri-axial accelerometer solution which can be configured for sensing ranges from 1.5g – 200g making it the ideal solution for a wide range of motion sensing applications. Simple software algorithms can be used in conjunction with the module to determine linear motion as well as rotational motion, eliminating the need for an expensive gyro. Furthermore, the
USB1600
comes equipped with an RS232 level UART, SPI interface, I2C interface, and 20 pins that are user-configurable as analog input or digital I/O. All of these features are packed into a compact footprint measuring only 1.85" x 1.78", one-quarter the size of the 104™ Form Factor.
Click
here
for more of this press release.